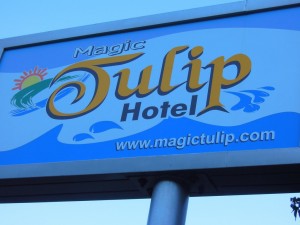 There have been times when I've wondered where the line lies between long-term travel and homeless. The borderlands between the two lifestyles can be thin, and sometimes I've wondered if there is a type of homeless person who doesn't think of himself as homeless at all, but rather on a very long camping trip.
I don't have a home-per-say—just a 10×10 storage unit. But I don't consider myself homeless. Even as we drift from place to place on-the-cheap and rootless, I tend to think of myself as on a Grand Adventure. But occasionally I'm shocked into a different perspective: I'm walking with my backpack down a dumpster-lined alley enroute to a cyber-café, and someone directs me to free breakfast at the church; Or I wake in our truck, look around, and realize we've been living with a rat for two months. The glue traps are overturned and stuck to the rug, the spring-loaded snappers are licked clean of their bait, and the live trap sits untriggered with a half-nibbled crouton. I get out of bed, pull on a shirt, and flinch at a newly chewed hole in the shoulder. Is this my life?
This sensation came up most recently when planning a trip to meet friends in Oludeniz, a resort town on southern Turkey's Mediterranean. We were happy to pay the cheap airfare, but after living in a van, are unused to paying for habitation; Andy perused dozens of hotel listings and quickly entered the seven stages of grief; the costs were uniformly high. Then, suddenly, he perked up.
"Check this out," he said, turning his laptop toward me.  "This place is only ten bucks a night."
I squinted. The screen flashed with photos of rose petal-scattered bedspreads, flutes of champagne. The Magic Tulip Hotel.
 "Impossible." The shoddiest place I'd found in Oludeniz was three times as much.
"There's gotta be a catch," I said.
Andy Skyped the agency and the price was confirmed. He was frothing to book; I was fretting.
 We paid The Magic Tulip in advance–$160 for 16 days. Weeks passed and our minds turned to other things: work, packing, coordinating meet-ups with friends. Then in preparation for departure, I pulled up some TripAdvisor reviews on the Magic Tulip. The list of horrors was unending:
Hotel from Hell, one read.
The rooms were comfortable … except for the beds, said another.
Pillows made of crushed concrete
 Vile food.
 Black mold.
 Broken water tap.
 Mice.
 Four cockroaches.
 Blood on the sheets.
 A death trap.
 I spent 4 days in hospital – I'm convinced this hotel played a part in the stress we had to endure as my health previous had been exemplary.
And finally:
 I would honestly say you would be stark raving mad to choose this hotel!!
Had our standards really sunk this low?
I blamed Andy who always gets suckered by the thrall of false economies. I remembered the cheap flight he once found us that arrived at 3 a.m.–after the public transport had shut down. We ended up paying $60 for a taxi. And then there was the outdated GPS he bought "for a song" which directed our truck right into the ruts of The Oregon Trail.
He directed my gaze to the photos of pedal-covered beds, and champagne. "It'll be great."
We arrived at the airport near Oludeniz the next morning. I sulked at the baggage claim while Andy sang Madonna's "Holiday." We grabbed our gliders from the conveyer belt and exited the airport where we'd catch a van into Oludeniz.
"My name!"  Andy pointed.
There, in the median, our van-driver was holding up a sign:
A.   Pagnacco
Magic Tulip Hotel
"I've never had a sign with my name on it," he gushed.
We heaved our bags in the van and were off, traveling the windy mountain road curves to Oludeniz. Andy smiled wildly while my eyes teared at the prospect of 16 days of cockroaches crawling across my face in the night, 16 days of mice and mold and 16 days in paradise without the paradise. He would want to stay. I would want to move. We would fight.
By the time the van was speeding down the final stretch of highway toward the Roach Motel, my life had arrived at a crossroads: I was ready to get a real job and make real money–to start going on proper vacations. But who would hire me now that I've spent my "earning years" squatting in truck stops and borrowed houses?
The van pulled up to the motel and my mood lifted incrementally. Its wrought iron balconies were aesthetic. A ripe lemon tree grew near the door. We shouldered our bags and entered the lobby."
"Welcome," said the receptionist.
While he leafed through my passport I looked at a framed certificate on the wall:
Gold Award
Magic Tulip
Best Summer Stay
By Portland Direct
I exhaled. A gold rating? From Portland?! My (almost) home town? I pulled the reins on my encroaching optimism. The certificate was dated 1998.
The receptionist handed us the key
We ascended the steps found room 309, unlocked it, and opened the door.
And it was …
Fine.
Granted it wasn't like the photos: there was no champagne, no rose-petal covered bed. But there was also no mold blackening the walls, no evidence of rats, soiled sheets, or cockroaches. Clean towels hung from the bathroom rack, and the toilet paper holder was loaded with a brand new roll.
I hugged Andy.
But what was with the hostile Trip Adviser reviews? It was a mystery. Either the motel had pulled its act together since they were written, or someone had a serious vendetta against The Magic Tulip.  Either way, it definitely illustrated some of the problems with TripAdvisor. But that's a whole different blog.
After a brief bask in the glow of Being Right, Andy—who gets anxious at settling anyplace without wheels—did something unprecedented: unloaded his back pack into a dresser drawer.
Let there be no doubt: For $10 per night, we were home.