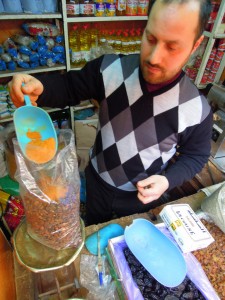 It would be easy to pass over Youssef Bouhlal's tiny shop in the Fez Medina. Its modest offerings of dried lentils, white beans, garbanzos, oil, and milk are unremarkable among the competing sights of souk. But like the plain facades that cloak the ornate interiors of the Medina's mosques and medrassas, the splendor of Bouhlal's shop is hidden. I wouldn't have known about it without my expat friend, Sandy McCutcheon, who introduced me to Bouhlal's shop on one of our Medina strolls.
"This is the best place to buy coffee in the Medina," he said, placing his order for a half-kilo.
Boudlal, 37, upended a bag of Arabica coffee beans into a grinder and then sprinkled on an array of simple, but unexpected, spices: a pinch of sesame seeds, a whole nutmeg, a few peppercorn…
When the grinder switched off, Bouhlal held out a scoop of the coffee for us to smell. Inhaling the rich aromatic spices invoked cozy memories winter mornings, Indian chai, and holiday treats.
Although Fez is full of sidewalk cafes serving espresso drinks, spiced coffee is rarely on the menu. Moroccans mostly prepare it in the home. You can buy bags at several places in the Medina, but Bouhlal's blend stands out both for its well-balanced flavor and its low price: just six Euros will buy you a kilo. And while blending your order, Boudlal also can converse about English literature.  He's studied the works of James Joyce, Joseph Conrad, and Herman Melville.
His coffee is as well-traveled as his mind. Guests to Bouhlal's shop invariably buy a stash to take home. "My coffee has traveled all over the world," Bouhlal said, twirling a bag of sesame seeds closed.
I wondered: Perhaps there is an international market for Bouhlal's unique blend? "This could be the headquarters," I declared, eyeing his small stall with big visions. "But we would need a larger grinder."
Insha'Allah," he laughed.
Bouhlal's small shop is located in the R'Cif souk in the Fez Medina. If you can't make it all the way to Fez, you can experiment with your own blend at home. Bouhlal does not measure by instruments, but by intuition. Here is what I saw him add:
Seasame seeds
Black Pepper
Whole nutmeg
Cinnamon
Anise Seed
Ginger
Combine these spices with quality coffee beans and grind. Brew in a stovetop espresso maker or percolator of your choice. Cream and sugar transform this spicy delight into a dessert. Prepare to be addicted.