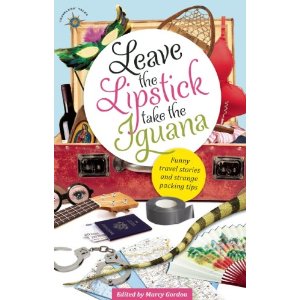 (my story as it appears in the recently released collection Leave the Lipstick, Take the Iguana: Funny Travel Stories & Strange Packing Tips)
When my mother turned 50, we decided it was time she traveled. Aside from a few quick trips over the Mexican border, she'd never left the United States. She wanted to go some place clean–but lively, cultural–but not overly foreign. We decided on Italy.
Only one thing worried her. Watch out for the men, a few people warned. They are aggressive, will grope you, and make lewd comments—ESPECIALLY since you are blondes. Italian men love blondes.
 At 50, my mom was a quite good-looking and walking down the street together we accrued roughly about the same amount of male attention. She had a nice figure, beautiful face, and stylish clothes. I was less kept, but at 24 had sea-white hair the flowed all the way down to my waist.
We brainstormed. What could we do to fend off the unwanted advances? Tying up our hair or hiding it beneath a hat was an option, but seemed too oppressive. So instead, we prepared what we would say in response and honed our snide looks. If an Italian man approached us with a dramatic proclamation of love, we knew exactly what we'd say:
 I like your approach, now let's see your departure
Or were he to say something like I know how to please a woman, we would say Then please leave us alone.
And reserved for the lewdest offenders: Sorry, we don't date outside our species.
Mom decided that instead of hotels, we would stay in the convents with the Holy Sisters—far, far away from the machismo of Italy's streets. We would be fine.
Should we bring pepper spray? My mother fretted. I laughed, but she was serious.
We started our tour of Italy in Venice, riding gondolas down the waterways and wandering the cobblestone streets. We were so awed by the beauty of the city that we forgot all about the perils of Italian men. We were too busy dining on pasta e fasioi , drinking the house wine, and blowing cigarette smoke over our shoulders to notice them. We spent a morning loitering in the Piazza San Marco where I fed what seemed like a thousand pigeons. One late afternoon, we strolled under the quintessential lines of clean laundry fluttering in the breeze.
Florence was next and we loved the bridges, walking the length of Ponte Vecchio back and forth a dozen times. We toured Galleria dell' Academia, eyeing the perfection of Michelangelo's David, and almost blushing at his beauty.   So far, all was going well. Days had gone by, and not a single Italian man had leered. We hadn't even heard a Ciao bella!  Mom began to relax.
Days peeled away in Lucca next. Each morning we rented bicycles and rode around the wall surrounding the town. We spent days drinking cappuccinos and looking at clothing and ceramics. On Mom's birthday, I decorated her bike in crepe paper and loaded the basket with cakes and presents. We rode around the wall, parked our bikes, and celebrated at a picnic table.
Happy 50th Mom, I said, lighting the candles.
 On the way to Rome we put our guards back up. Rome would be the surely be the epicenter of unwanted catcalls and intrusive groping. We set stern expressions, ready to admonish any Georgio or Afonso who got out of line.
Once in the city, we boarded a packed bus to the Sistine Chapel.  Watch it, mom said as we squeezed in and stood pelvis-to-pelvis with a crowd of Italian men. We exchanged worried glances the whole ride, but once again nothing happened. As we entered the chapel, I became aware of a gnawing question, Where were all the aggressive Italian men? I wondered.
Not ten minutes later, a young Italian man in glasses and too-short pants approached us with a look of faint desire. Mom braced. Finally, I sighed. He addressed my mother with the utmost politeness, a pure gentleman: Your daughter is beautiful. Can I ask your permission to take her on a date?
 A few days later, we boarded a train to Milan where we'd catch our flight back to the U.S.  As the train coursed northward, Mom inched closer to the conductor, tossed her hair a few times and by the time the train pulled into Milan, had secured us a date. He has a friend, she whispered. We followed him off the train, and he led us to the employee cafeteria where his friend, a 50-something named Giovanni, waited. We split a bag of chips four ways.
My mother and I left Italy deeply offended.  All that worry and preparation and not a single catcall. and We never got to use the lines we'd rehearsed so studiously.
Years have passed since our trip to Italy, and on some level I still haven't forgotten the wounding indifference of Italy's men. But recently, I've been spending my mornings in a café in Sausalito. The place is frequented by Italians and each morning as I pass the sidewalk tables I hear a chorus of Ciao Bella, and Beautiful Smile. When I rise to the cream counter carrying my coffee, the men glance up from their newspapers, and my ego swells like a popover. It's as if all the ogling men that were supposed to be in Italy had gathered in this small Sausalito café.
One morning, I was standing at the register paying for my espresso. An older Italian man was at a table behind me, his eyes about level with my buttocks.
 Ciao Bella, he said. I braced and returned a stiff Hi.
How are you? he asked.
Fine. You?
 His watery eyes leered at the back of my jeans.
Well . . . I love this point of view he answered.
I felt heat rise under my shirt. How inappropriate I gasped. How politically incorrect.  Where was this guy in Italy, I wondered, when I was prepared, guarded, and equipped. Now, standing there at the counter, I couldn't remember a single one of the comebacks my mom and I had prepared. So, I turned and said the first thing that came to mind:
Thanks.
For more stories, buy the book here: Leave the Lipstick, Take the Iguana: Funny Travel Stories & Strange Packing Tips