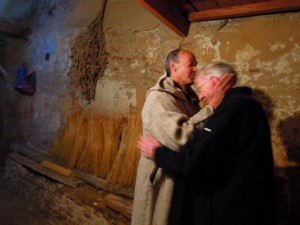 Abdul gestured to heaven.
I used to work for money. Now I work for Allah. We are sitting outside his ceramic shop in one of those rare beams of sun that filter into the Fez medina at midday. Just a moment ago, he was laying on a heavy sales pitch for a tagine; now he was praising Allah.
This was not like shopping in America. The sales clerks at Victoria's Secret or The Gap are more interested in pushing a three-for-the-price-of-two panties, –or selling their credit line–than sitting in a ray of sun talking God.
But to be clear: Abdul did have a keen interest in selling his wares. Anyone who has spent a split second in the medina knows that the shopkeepers are relentless. They call out to you everywhere you walk, and sometimes trailing you down the street.
But what is redeeming about medina is that although overpriced gadgets may be plentiful, so are spiritual truths. The salesmen of the medina are shape-shifters. One minute Yousef-Carpet Salesman is tricking you into his shop and the next, he is waxing on like Khalil Gibran.
"One day sunny, one day raining. One day good, the next day bad." Si Mohamud was standing amidst the antique vases of his furniture shop. "That your heart is beating, this is important." He placed his hand on his chest. "Health. It is the only thing that matters."
Somehow the shopkeepers of the Fez medina aren't aware of the dirty secret of all thriving capitalist societies: that happy people don't buy things. Dissatisfaction–not gratitude—is what fuels consumerism. Tell them they are not thin enough, blonde enough, or young enough and their wallets will turn inside out. And lose the Insha-Allah, that laissez-faire sentiment that turns our fate over to the Higher Power. Tell them that with the right pair of skinny jeans, they can be the master of the universe
"Enjoy every second. For you do not know when and where you will die," Rashid counseled as I leaned toward the mirror to inspect a pair of silver earrings and formulated my bid. My heart leapt. He's right! I plucked the earrings from my lobes. What am I doing spending money in this dark shop I should be out on the sunny rooftop, watching migrating storks and the springtime hills.
 It's not just wise words that you find in the medina, but also wise postures. Old men in djallaba lean all day against weather-stained walls, content as horses turned out to pasture. They occupy sidewalk tables, taking in the scene over cups of mint tea that never seem to empty. On my way home each day, I pass the same plumber taking the same seat of repose in the same chair. Such postures don't exist in America. There, time is money, and everyone must fiddle with their cell phones, be eating, or be on their way somewhere. In the contented body-language of the Fassi lies a sort of somatic advertisement for Simply Being.
No shopping trip is perfunctory in the labyrinthine byways of the medina.  The sacred and the profane mix like intimate aromas and aggressive sales pitches are in no way at odds with spiritual pursuits. False guides bamboozle you into tannery tours en-route to the mosque. Carpet sellers sing Hamdulla! and then rob you blind. The wisdom of the ages echo off walls hung with overpriced kitsch. You set off scouting for a roll of toilet paper, and suddenly find yourself standing in the center Si-Mohammed's antique shop, spellbound by his wisdom, and giving thanks for the very beating of your heart.
For more stories from Fez, visit The View from Fez